Commercial, Industrial Building & Due Diligence Inspections.
Inspection Services Northwest's experience in Commercial and Industrial physical condition inspections span over twenty five years. We have experience in buildings from 500 to 1,000,000+ square feet. The building types we have inspected include:
Motel /Hotel
Office buildings
Strip centers
Light industrial
Warehouse
Hotels
Experience is the most important part of the inspection process. Although using the latest and best equipment available is a very important aspect of our inspection procedure, our twenty five plus years of experience is the difference in our building analysis. Our inspection team has performed tens of thousands of inspections ranging from the corner handy mart to the three hundred room motel, hundred plus unit multi-family complexes and industrial park or office building. Our unique experience allows us to create a report format designed to provide in-depth analysis of the current property condition and an outline of the most likely future costs.
Infrared Technology In The Inspection Process
At ISN our inspectors are certified thermographers. Infrared technology is used on every inspection. The advanced findings afforded by thermographs add conclusive analysis simply not attainable by any other means of physical inspection.

Multi-family Inspections
ISN has been a leader in multi-family inspection procedures for years. Our report formats are designed to give the client a precise picture of the building components condition and an outline of the life expectancy of the components.  Click on any of the images for a full-sized view.
Figure 1: Each unit inspected is documented as a single excel tab and the data is extrapolated to the summary data.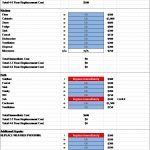 Our report will give you an easy to read analysis of the major components from roofing through foundation and the interior report will judge all unit components by their effective life expectancy including estimated remaining life and the typical cost of repairs.
Figure 2: Our interior report gives you a specific life expectancy of the appliances and fixture for budget planning
Figure 3: The total cost of the interior repairs is automatically compiled from the interior data.