Multi-Family – Why Us?
Our fully-trained teams can handle any size of building.  We have been doing this for over 26 years and at this point have completed over 4,000 multi-family inspections. We are very well adapted to meeting the needs of multi-family purchasers and existing owners. We have been a leader in multi-family inspections in the Pacific Northwest for years and our inspection team has developed an efficient inspection process for gathering data on the life expectancy of the building components.
We understand that your analysis is economically based and our reports put exceptional planning data at your fingertips. Our reports give you a five year analysis of all major components and their likely replacement timing to help you budget forecast with ease and precision.
Multi-family Inspections
Our report formats are designed to give the client a precise picture of the building components condition and an outline of the life expectancy of the components. We provide interior reports that breakdown each interior component's life expectancy on a spreadsheet.  This allows for easy budgeting over the next four years. After your inspection you will receive two separate reports. The narrative report will outline the findings in regards to the major components of the complex. The report will include an executive summary of the findings; Cost estimates (when they can be determined), and a complete descriptive report with digital images and infrared images as needed.
The following examples show the outline of the report format.  Click on any of the images for a full-sized view.
Figure 1: Each unit inspected is documented as a single excel tab and the data is extrapolated to the summary data.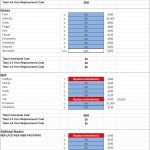 Our report will give you an easy to read analysis of the major components from roofing through foundation and the interior report will judge all unit components by their effective life expectancy including estimated remaining life and the typical cost of repairs.
Figure 2: Our interior report gives you a specific life expectancy of the appliances and fixtures for budgeting.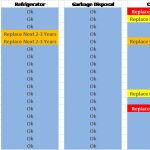 Figure 3: The total cost of the interior repairs is automatically compiled from the interior data.
Our narrative report takes the data collected from the interior per unit inspection and compiles it with the major component analysis and cost estimating, when we can gather a scope of work required, to draw a clear executive summary.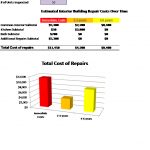 A multi-family inspection includes visual inspection and functional testing of exterior building components, roofing and mechanical systems. The inspection also includes analysis of all unit interior components appliances and fixtures.
View Multi-Family Exterior Inspection Report
View Multi-Family Interior Sample Report